Week #14 of 17:
4 weeks left including this week.
The start of the December home stretch to the end of the season.

For many teams who have a record of 5-7 or worse, it's win every game from now on if they even want to have a wild card spot.
For teams that have a record of 7-5 to 9-3, they are not out of the woods yet.
If they lose 3 to 4 games out of the next 4 games including this week's, they can still lose a playoff spot.
It's pretty much do or die for every team now if they want to hold on to their current playoff spot or secure a playoff spot.
The only team as of right now that has a guaranteed playoff spot are the Los Angeles Rams.
Even the other 3 teams in the Divisional rounds in the graphics below: the Patriots, the Chiefs and the Saints, can still fall from grace if they don't win most or all of their next 4 games.
I do like to see the Patriots fall into the wild card.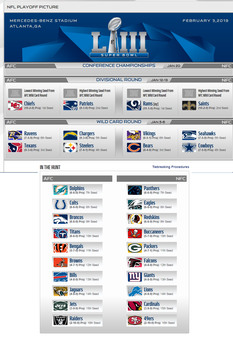 Go Miami!

Beat them Patriots!