I think this is quite rare. Found very little information about this on the web:
In 1989 there was a multi-part softcore erotic seria on Italian TV, called
Doppio Gioco
, starring many famous p-stars like Tracey Adams or Joy Karin's.
As I understand it, they also made some hardcore scenes; excluded of course on TV, but later joined to a full hardcore movie (English Title: "Double Game").
Came recently across a copy on the web. It has been obviously a vhs-copy, quality rather poor. Furthermore, if it has really been released as a full movie, the editor/cutter was on drugs, I'm sure.
Sometimes scenes start in the middle of the action or end abruptly.
Anyway, I edited all the Joy Karin's-bits out and joined them afterwards to one big file. So if you get irritated by the strange changes of scenes inbetween, don't blame me for that.

Many thanks to the orginal ripper!!
If anyone has more information about this movie, please let us know, especially if there are more parts of this!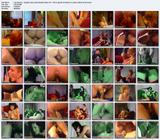 http://filefactory.com/file/a17b...ion_.part1.rar
http://filefactory.com/file/a17b...ion_.part2.rar
OR
Dead RS - Links Removed
in
Rotte e sfondate
from 1995 Joy has unfortunately only a rather short scene.
The scene is even interrupted by another scene originally.
So, once again, I edited both parts out and joined them afterwards to one file.
Hope you enjoy.

Dead MU - Link Removed