------------------------------
Cleaned May 2016 - NineTails
--------------------------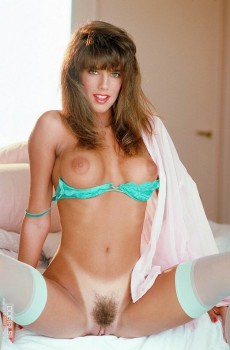 Racquel Darrian (born Kelly Jackson[1] on July 21, 1968) is an American pornographic actress.
Born in Hutchinson, Kansas, Darrian moved to California with her family when she was seven years old. [2] She started her career as a nude model posing for lesbian-themed photoshoots. When she crossed over to adult film, she initially performed only in "all-girl" scenes. As offers increased for her to participate in heterosexual scenes, she began working onscreen with Derrick Lane (whom she married in 1994). She signed an exclusive contract with Vivid Video; eventually tiring of constantly working with Lane, she insisted on working with other men. Darrian divorced from Derrick Lane in 2000[1].
She has a daughter, Brooke, born in June 1997.[2]
Racquel Darrian is sometimes referred to as the "brunette goddess of porn"[1] and her most celebrated attribute is her derriere. She made about 100 adult films between her first film Warm Bodies, Hot Nights in 1988 and her final film Kink (also published under the title Girlfriend) in 1999.
Darrian has appeared in Penthouse and Playboy magazines[2]. She was the October 1990 Penthouse Pet of the Month, as Kelly Jackson[1], and in Playboy's 1996 pictorial "Strippers".
Darrian has also appeared in numerous solo, lesbian, straight, and group pictorial spreads in Velvet magazine between 1990 and 2002 (including at least 20 covergirl or co-covergirl appearances) including several centerfold spreads and fold-out posters, as well as a "Dear Racquel" section in many issues containing letters from fans with responses by her.
She currently lives in Las Vegas[1] and works as a feature dancer at clubs across the U.S.