Thread cleaned Mar 2012
Lil Ass (no aka´s) is a ebony porn star that appeared according to IAFD in 132 hardcore movies. Remarkable are her tattoos, her huge bruests and her extraordinary ability to take part in bukkake scenes.
Her data en detail:
Birthday: January 27, 1975
Astrology: Aquarius
Birthplace: USA
Years Active: 1996-2006 (Started around 21 years old)
Ethnicity: Black
Nationalit: American
Hair Color: Black
Height: 5 feet, 2 inches (157 cm)
Weight: 107 lbs (49 kg)
Tattoos:
Two words on right bicep;"lick it before you stick it"frount inside right thigh ; "Bo Jangles" on lower back; upper front inside right thigh; "Lil Ass" in script on upper right buttock; lower outside left forearm; "David" on upper left breast; Black sun around navelwith red moon to the right; Tribal from hip to hip and above her pussy;
IAFD
:
http://iafd.com/person.rme/perfi...=f/lil-ass.htm
Her
PATM picture
thread:
http://skylink-cdma.ru/showthread.php...13#post4147113
--------------------------------------------
Lil Ass with Sandie Caine in American Bukkake 20
Cover box of the full movie
It is an amazing scene!!!
I have never seen such topic before:
Lil Ass is at the thematically climax of the loop, collecting cumshots with her mouht and fills this afterwards in the technically opened anus of the blond Sandie Caine. Really amazing: she collects cumshot for cumshot and when her mouth cave is full enough (depending of the volume of the shots, this after 1, 2 or 3 shots the case) she emties her mouth IOT get more empty space, so to say.
The rest of the scene is more and less usual bukkake.

Preview: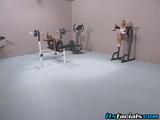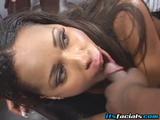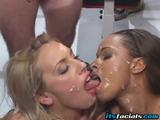 Resolution: 512 x 384
Type: WMV
29 pics/ sec
1000 kbit/ sec
Duration
: 40 min 25 sec
Size
: 222.27 MB
Download link
:
http://depositfiles.com/files/r7owp25xf