I don't know if it's ever been discussed or not, but I was browsing through some 'personal' (I think) pics of her, and I think she could be topless in some of them.
If you check this:
Phoebe is obv the girl without the glasses, this is the middle pic
another: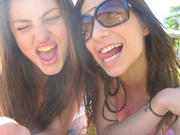 now if you blow up the first pic I think this should be Phoebe, topless?, on the left
However, does anyone actually have a better quality version of this? Or is there any way to enhance the one I already have?